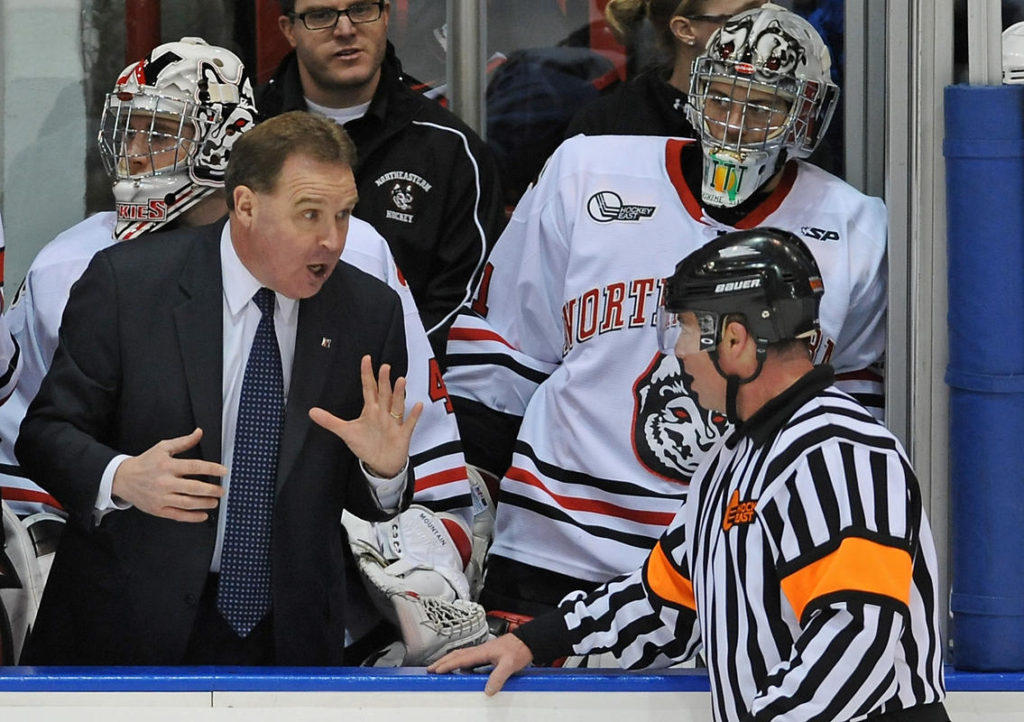 Northeastern has received a commitment from 2000-born Canadian defenseman Tyler Spott. A left handed shot, he is currently playing Midget hockey for the Toronto Marlboros. Analysis of Spott as a player sent out after his commitment include "good puck rushing defenseman" (@RyanHPScout), "smaller mobile defender, excellent low-risk puck move[r], smart and very efficient" (@TheScoutDotCa), and "good mobility, smart on the rush" (@graindaiv). Encouraging words to hear for the potential future Husky.
He was a 5th round draft pick of the Green Bay Gamblers of the USHL in the 2016 USHL Future's Draft, and a 7th Round pick of the Hamilton Bulldogs in the OHL Priority Selection. Obviously that means that the OHL will be hunting for his services when the time comes, meaning Northeastern could lose him to the Major Junior route, something they have not had happen since Phillipe Gadoury forewent his commitment to play for the Halifax Mooseheads of the QMJHL. However, there are factors working in favor of him staying on the NCAA route.
Spott's father is Steve Spott, current assistant coach for the San Jose Sharks and a former player at Colgate University, where he tallied 148 points in his collegiate career. The fact that Spott's father played college hockey is a good indication that his son would likely follow, however his father also coached the in the OHL for many years as well. Steve Spott had coaching positions in Plymouth (assistant) and Kitchener (assistant and eventually head coach). In addition to his father, the Spott's have a very close relationship with the DeBoer family- Steve Spott and Peter DeBoer coached together in Plymouth and Kitchener, and Peter's son Jack (a BU commit) considers Tyler Spott to be one of his closest friends (per his Twitter). With Jack committed to BU, and all indicates that he will hold that commitment, one can imagine that would be a good influence on Spott maintaining his commitment to NU (and add some extra punch to the NU-BU games once they both arrive).
Looking at the roster projections, this commitment adds to Northeastern's already populous defensive pipeline. We project Spott to arrive in 2019-2020, which, not counting the guaranteed early departures between now and then, would give Northeastern 10 defensemen for that season. Having too many high-upside, well-regarded defensemen recruits is a problem all NCAA coaches would love to have, so you won't hear us complaining, but it is something Jim Madigan and staff will have to sort out when the time comes. You can see our updated projection of the Northeastern roster here, with Spott tentatively placed in the 2019 incoming class.
Congratulations to Tyler and his family, and welcome to the Northeastern family!