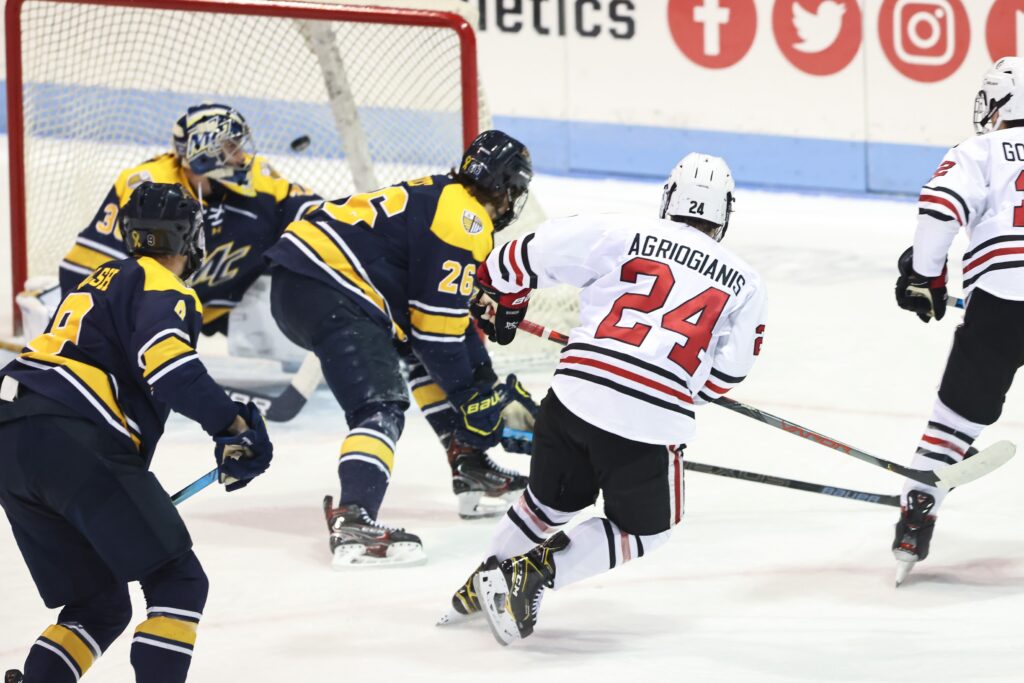 Back in February 2020, the "before" times if you will, the Northeastern Huskies were rolling past anyone who dared to get in their way… until Tyler Madden broke his finger. The team appeared lost and incapable of scoring, got swept by Vermont, and finally stole one single win from their last six games to sneak back into the Hockey East playoffs that would never happen. Then we all sat idly by for 9 of the longest months in recent history, wondering if the offense would come back this fall with Madden moving on to bigger and better things.
Fourteen goals later, question answered.
The Huskies took out their pent up energy and frustration about all the games they missed, the Hockey East Quarterfinal in March that was sure to be a barnburner against the Minutemen, the last two months of games that should have already happened this fall, and even the two weekends they were forced to sit out of earlier this month due to a shutdown that was imposed on them despite zero positive tests on their team, and absolutely unleashed all of it on Merrimack this weekend. Scott Borek and the Warriors didn't show any lack of effort, this is a Merrimack team that you can tell is a far cry from the teams Mark Dennehy left in North Andover a few years ago and could easily become a threat in Hockey East in the coming seasons, but nothing was denying these particular 19 Huskies on this particular weekend their moment in the spotlight.
Game 1: Merrimack 2 Northeastern 8
The scoring came early and often in this one. NU led 2-0 after the first, 6-0 before Merrimack got on the board, and locked in an 8-2 final as they cruised through the third period. There were so many stories of this game among individual Huskies, and I'd be remiss not to touch on all of them. The first one was Connor Murphy, who made his first collegiate start in goal. Murphy was up to the task early, stopping all 10 Merrimack shots in the first and 18 of 19 over the first two periods en route to his first collegiate win. Obviously in an 8-2 scoreline you don't always necessarily look to the goaltender as the star, but he came in and he did what he needed to do, shutting Merrimack down until the offense came to life.
The second was Jordan Harris, the junior defenseman who chose to return to Northeastern this summer rather than trade red and black in for bleu blanc et rouge and he made an impact early and often as the new leader of the Huskies' blue line. He recorded a great primary assist on the first goal, sending the puck to Steven Agriogianis in front of a wide open net, scored the second goal himself, and added another power play goal in the second for good measure, outscoring the Warriors singlehandedly.
Next up is the first goal scorer himself, Steven Agriogianis. Agriogianis has no lack of experience playing with high-level talent, he competed in the Brick Invitational as a child, at three USA Hockey Summer Camps as a teenager, and played at least one USHL game in five different seasons before arriving at NU. And in his Huntington Ave debut, the Huskies' fourth line center decided to arrive on the scene with one of the best opening weekends by a freshman in school history. He scored the first goal of the season in the first. He had the primary assist on Neil Shea's marker in the second, helping the latter match his 2019-20 goal total in about 30 minutes. He added another goal in the third, deflecting a puck home from in front of Troy Korbyn. He led the fourth line to a three goal performance against a Hockey East institution. And this was just his debut.
The attention now turns to Tyler Spott, who came into this season as someone who had to fight for a spot on the line chart after a freshman year where he didn't record a point and struggled for long stretches of the season. So what did Spott do? How about earn power play time, rip his first goal into the top corner of the net, celebrate it, come back out, and make an absolutely absurd neutral zone play and zone entry to set up Agriogianis for another goal five minutes later. If this Tyler Spott is here to stay, every team had better take notice, because Northeastern has the best six players on the blue line in the entire country.
There's so much more to say here, Riley Hughes scored an unassisted goal to match his 2019-20 total, Zach Solow had 3 points, TJ Walsh 2, and I haven't even yet said the names of any of the three players that looked like the most dangerous line on the ice, the freshman line of Ty Jackson, Dylan Jackson, and Gunnarwolfe Fontaine. This game was literally nine months of hockey all at once.
Game 2: Northeastern 6 Merrimack 3
Northeastern came out of the gates in this one the exact opposite of their first game, looking like a zombie of a team that just emerged from lockdown and was seeing sunlight for the first time in a year. They went down 2-0 to Merrimack on a 9-0 shot disadvantage while taking three penalties, two of which resulted in Alex Jeffries power play goals. Sometimes you get lucky and sometimes you create your own luck, and the Huskies did both to come back in this one, with a Merrimack penalty culminating in Northeastern's first shot and first goal, an absolutely dizzying 1-on-4 effort from Riley Hughes to score his second goal of the weekend all by himself.
Merrimack would go into the second and commit a train of penalties even worse than the one NU led the game with, resulting in another power play goal from Grant Jozefek, on which Jordan Harris made one of the best plays I've ever seen in a Husky uniform to find the redshirt senior forward, a goal from Solow just as a power play expired to take the lead, and Aidan McDonough scoring the backbreaker with just 2 seconds left in the period to extend the lead to 4-2.
Agriogianis had the primary helper on McDonough's goal in the second and did it again with another primary when he assisted on Ty Jackson's first collegiate goal in the third. He even put the puck in the net again himself for what would have been his third goal of the weekend, but it was waved off for a high stick. As the game wound down, McDonough would add an empty netter, coming from behind to win a race down the ice, finding a TJ Walsh lob, and putting it into the empty cage in a scene reminiscent of the goal Adam Gaudette scored to lift the weight of the Beanpot streak off of Northeastern's shoulders.
Merrimack almost always plays better at home than they do on the road, as UMass discovered when they fell at Lawler last week, so it's not too concerning to see NU struggle a bit more on Sunday. However, it does show that even after a great game on Saturday there is still work to be done, the slow start, the train of players being sent to the penalty box, and the early shot deficit are all issues that could have cost the Huskies against a more experienced team. 2-0 deficits are not easily overcome in this conference, and without Merrimack committing a pile of penalties to let NU back in, there's no saying how the game may have gone.
Overall, a Hockey East sweep is a Hockey East sweep, and the Huskies enter Monday with 14 goals scored, six Hockey East points, first in the conference, and with four of the top five leading scorers on a per-game basis in the NCAA. They scored 6 power play goals on 14 attempts officially, 7 of 14 in practice, an outstanding weekend for Jerry Keefe's unit. Obviously the whole season won't be quite that easy, but for a start, this is as good as you could have asked for. Not to mention that Northeastern doesn't even have their most heralded freshman forward or their expected starting goaltender yet, as they continue to train for their inevitable faceoff at World Juniors. The Huskies, meanwhile, will be back in action this coming weekend for another Hockey East home and home series. And in true 2020 fashion, we will all find out who it's against together with a few days notice.
Quick note, we had the privilege of being able to cover Saturday's game in person at Matthews Arena alongside with a variety of other members of the college hockey media, each of whom I can promise you I hold in much higher esteem than we hold this blog best known for providing bulletin board material to opponents. It's certainly not something we plan to make a habit of, but we are incredibly thankful to the program and staff for the opportunity as well as the players and coaches for the work they've put in over the past months preparing for the season and more importantly staying safe, as they have still not yet had a positive test result since returning to campus. We hope the little bit we do to promote the program and the players who choose to become a part of it helps make a difference to those involved.