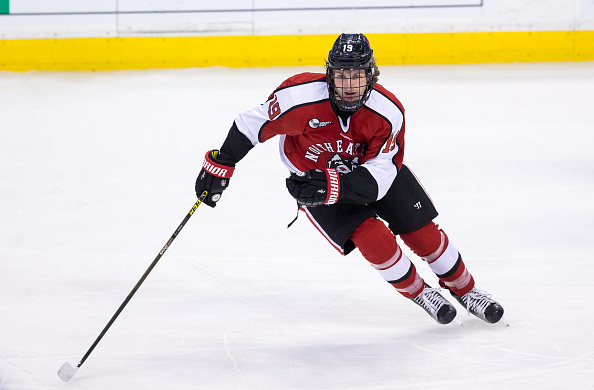 The Huskies earned their first point in Hockey East play this season, battling back from 1-goal deficits on three different occasions to tie #4 Boston University at Matthews Arena Friday night. The Huskies scored the first goal of the game, then exchanged goals with BU before tying the game for the final time with under a minute left in the third and the goalie pulled. Zach Aston-Reese tipped in a Ryan Shea shot with under a minute left to tie the game at 4. Ryan Ruck saved 32/36 shots on the night, while the Huskies scored their 4 goals on 30 shots.
Northeastern followed up the tie by getting shutout for the first time this season, losing 3-0 at Agganis Arena. BU goaltending saved all 27 Northeastern shots. Ryan Ruck saved 20 of 23 for the visitors. All three BU goals came in a 7-minute flurry in the second period, all at even strength.
Downie
Can we talk about Northeastern's complete inability to score at even strength against competent teams? Take out the ASU and Bentley games because, honestly, who cares. The Huskies didn't score a goal playing 5 against 5 in their opening weekend series against Quinnipiac. (For the record, while we're ignoring Bentley, they didn't score a 5v5 goal in the first game of that series either. They potted two in a five minute span in the first period against Vermont then never scored again the rest of the game. They scored one single 5v5 goal on the weekend against BU.
The Huskies have almost as many 6v5 goals (2) than they do 5v5 goals (3) in those games, which seems like a stat that shouldn't be possible for any team, much less a team as talented as Northeastern. Averaging 0.60 even strength goals per game is, needless to say, not going to cut it. For all the much-deserved criticism being placed on the Huskies' back end, and all the well-deserved credit being given to Gaudette/Aston-Reese/Sikura for picking teams apart, the Huskies' other forwards have been nothing short of useless. ZERO PLAYERS on the Northeastern roster not named Adam Gaudette or Dylan Sikura scored a 5 against 5 goal for Northeastern over those five games. That's absurd. There are three players on this team who are destroying the world and basically dragging the rest of the team along for the ride.
The Huskies' bottom six has been particularly incompetent. Northeastern took 57 shots on goal in the BU weekend. 4 of those 57 came from the bottom six forwards. "All" four of those shots came from Collier and Pond, too. Which means all four wingers were completely shut out of the shot column, including two Huskies in Sam Kurker and Grant Jozefek who were expected to provide big contributions this year, and Biagio Lerario, who still has just one shot on goal on the season despite playing every single game thus far. The two centermen, while miraculously providing one shot on goal per game, are awful at the faceoff dot. They're a combined 70 of 178 on draws on the season, while Collier is an astonishingly bad 11-42 through three games of Hockey East play. Something has to give, because this team is too good to be the team they've looked like so far.
Davis
Not sure how I can really top what Mike said above. I thought NU played well overall, Friday night was the kind of game that should prove to the team they can hang with anyone, any night. They did not quit, did not fold, and fought their way through waves of BU momentum and some untimely penalties to earn the tie. I thought Ruck played well that game actually, and that BU could have had more than 4 goals if he was not up to the task. The defense did not help him much allowing 36 SOG. Others that impressed that game were Gaudette (duh), Filipe, and Shea. Filipe and Shea have got to be the co-MVPs of the freshman class right now.
Saturday's game, it can be argued NU played better (held BU to fewer shots, had good movement on the powerplay, good neutral zone flow), but ultimately they didn't score. Oettinger weathered a storm of PP opportunities in the first period, where NU could have (should have?) scored one or two goals. BU scored all their goals within 7 minutes or so of each other, otherwise NU played right with them all game. Considering this was all without the Stevens boys, I remain optimistic about the team as a whole. John is expected back any week now, and his arrival will be a lift in the faceoff dot and controlling the offense's flow.
Fallon
Downie hit the nail square on the head. The most frustrating thing about the lack of production from the bottom 6 is that the main culprits – guys like Kurker and Collier – are expected starters even with a fully healthy set of Stevens brothers. This isn't just an issue of the 13th and 14th forwards getting exposed. The good news is it's still so, so early. Last year we saw many player make enormous in-season strides. Saucerman, McMurtry, Gaudette, and Sikura all come to mind. We need to see that again this year.
Ryan Ruck is also starting to worry me a little. 7 goals in 2 games against these Terriers is nothing to get too upset about, but as @BurntBoats on Twitter has pointed out, Ruck now has a .892 save percentage in his last 16 games. For perspective, the Hockey East conference average so far this year is .912. In fact, Ruck has posted just 2 games with a save percentage equal to or higher than the league average mark this year – one against Bentley, and another against Arizona State. Husky fans are well aware from the Witt/Rawlings years that goaltending makes or breaks a team. Ruck needs to get back on track if NU is to compete with the best going forward.